My wife hated Hide the Pain Harold until I got paid for a Hungarian TV commercial
Nine years ago, I did a reverse image search on a photograph of me and was shocked to discover it had become a meme. People online thought my smile, combined with the look in my eyes, seemed terribly sad. They were calling me Hide the Pain Harold.
The photo came from a shoot Id done a year earlier, when I was still working as an electrical engineer. A professional photographer had got in touch after seeing my holiday photographs on Facebook. He said he was seeking someone like me to be in some stock images. Everyone is a little vain inside, myself included, so I was happy that he wanted me. He invited me to a photoshoot near my home in Budapest and we took shots in different locations and settings. Over the course of two years he took hundreds of pictures of me for photo libraries.
I thought the pictures would just be used by businesses and websites, but I wasnt expecting the memes. People overlaid text on my pictures, talking about their wives leaving them, or saying their identity had been stolen and their bank account emptied. They used my image because it looked as if I was smiling through the pain.
Once the memes were out in the world, journalists began to contact me, and wanted to come to my home to interview me. My wife hated it: she thought it interfered in our private life and didnt like the way I was portrayed. People thought I wasnt a real person, that I was a Photoshop creation someone even got in contact asking for proof that I existed.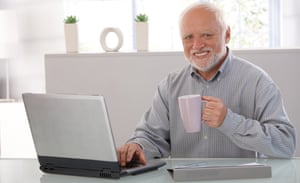 Source: http://www.theguardian.com/us