Tunnel to East Berlin filled in by Stasi is excavated and opened to public for first time
A tunnel built under the Berlin Wall to allow dozens of East Germans to escape to freedom has been exposed for the first time in almost half a century.
Hundreds of volunteers, including some of the original tunnellers, dug up 189 cubic metres of earth beneath a 19th century brewery to allow access to the former escape route. It will open to the public on Monday as part of celebrations to mark 30 years since the fall of the Berlin Wall.
It is the first time one of the 75 escape tunnels built during the division of Germany has been excavated. A specially constructed 30-metre-long walkway offers visitors views into the depths of the tunnels narrow, rugged lime-mud walls, which now have protected status.
Poignantly, the tunnel 110 metres long, 9 metres deep and built from west to east over two months in the winter of 1970-71 was never used. Officers from the Stasi, or East German secret police, who had covertly observed its construction for weeks, using ultrasound monitors to detect its route, seized the tunnellers just as they were nearing completion on the communist side, with just three metres left to dig. Stasi reports indicate the pleasure the officers took in allowing the men to continue their back-breaking work in damp, dark conditions, knowing they were about to thwart their efforts.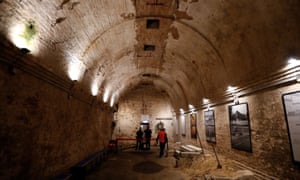 Source: http://www.theguardian.com/us