The response to the tattoo artists latest ink could be summed up with the headline people give unsolicited advice to woman who changes her appearance
Kate von D, the tattoo artist and businesswoman, made an appearance on the TLC show LA Ink this week, got a new tattoo and posted a photo of it online. Sounds pretty on brand, right? But the art which blacks out most of her left arm and covers up previous tattoos is invoking a vociferous reaction.
The backlash could be summed up with the headline People Give Unsolicited Advice To Woman Who Changes Her Appearance. In 2019, there is a special brand of hatred reserved for women who push boundaries with their appearance.
Von D received comments such as: Why would you do that your skin is so pretty why would you cover it up with black ink like that? and When you put art out there, you risk getting negative comments (this is akin to another kind of advice which I like to call Why You Are Asking For It Even Though You Never Asked).
Von D responded to the hate-mail which included insightful comments such as its ugly and youre stupid on Tuesday. She expressed her confusion over why her tattoo inspired such a strong reaction, considering that tattoos are personal and vary widely in their meaning and execution. She further clarified that a lot of the ink she had covered up in black had been badly done at a time when when she was young and drunk she has now been 12 years sober.
Even though tattoos are an outward expression, they really arent for anyone else other than the person wearing it Yes, I did decide to black out a large portion of old, crappy tattoos on my arm Regardless of what people might think about it, I absolutely LOVE how simple and clean it looks now.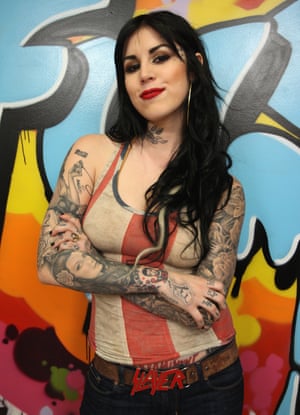 Source: http://www.theguardian.com/us